Sun 24 Aug 2008
1-day.co.nz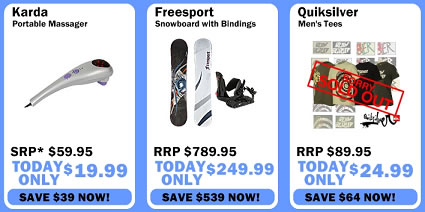 Sundays offerings are a Portable Massager, Freesport Snowboard with Bindings and Quiksilver Mens Tees. Although I haven't heard of the brand, the snowboard package on offer seems like a very good deal for a board and bindings.
The Quiksilver Mens Tees also seema good price but I don't know about their quoted RRP of $89.95 for a t-shirt. I've never seen a quiksilver tee selling for this much. Although I may be wrong. Its not a top tier brand like that. Still a decent price for a quiksilver tee. 1-day can't be making too much of these at such a low price.
The portable massager looks...interesting. And again at $20.00 you have to wonder how much 1-day are making from the sale.
---
Sat 23 Aug 2008
1-day.co.nz
Seems all Saturdays items are repeats that have been on the site before. Spose it a good idea to put repeats on a Saturday as most people wouldn't check on a saturday. Saturday must be their quiestest day.
Looks like Mr Vintage still needs to sell some tees, as these were on a few weeks ago, but fair enough, if they don't sell, they still need to sell them. Although if something dosen't sell it presents an issue where you have to hold on to the stock for a few weeks to put back on the site. The stock sits around unable to be sold as it isn't advertised anywhere. As they say...1-day only. Torpedo7 don't have a place to offer unsold deals yet. They may like to look at second chance offers like some of the international deal a day sites offer unsold gear.
Skate ramp is also back. A decent price but I'm not sure how usable to ramps would be as they look smallish.
Reef Jandals up once again. I remember when Reef jandals were the hottest thing out and they used to sell for $90 a pair! $15.99 is a good price for Reef.
---
Fri 22 Aug 2008
1-day.co.nz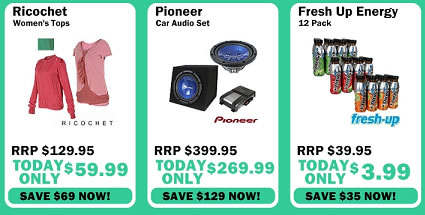 A nice variety today. Car Audio, Clothing and Food. I'm impressed with the drinks offering. At 30c a pop these Fresh Up Energy 12 packs are a steal - although they do expire next week. A great way to clear old stock that no shops will take :)
The Pioneer Car audio set of sub and amp is a little bit misleading as it shows 2 subs when there is only 1 in the package. The price of $269.99 seems okay for a sub, amp and box package, though not amazing. I was almost tempted to buy it for my new vehicle but I'm sure I can find something a little cheaper.
Ricochet Womens tops. A designer brand which I believe is also a New Zealand designer. Interesting to see the range of companies now offering 1-day items to sell. Its a great concept that works well for all parties. 1-day, the seller clears their excess stock and the public gets a good deal.
More pages: