FirstIn.co.nz
Overview
Originally launched in 2004, FirstIn.co.nz was most likely the first daily deals in New Zealand. They offer 6 deals per day, which changeover at 7am.
Screenshot of the First In Homepage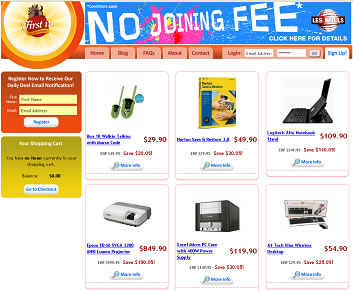 Site Story/History
To be reviewed in near future
Product Range
FirstIn offer a range of products normally in the computer accessories and electronics area.
Example Products
Ben 10 Walkie Talkies $29.90
Logitech Alto Notebook Stand $109.90
New Product Load Time
Everyday 6 new products load at 7am.
Good points of the site:
Range of Products
The site has a good range of products which keeps you longer on the site.
Based In Wellington
So packages are fast to arrive nationwide.
Final words
FirstIn has been a little hard to navigate in the past but the new site redesign is definitely looking good! You can view the site at firstin.co.nz