DealaDay.co.nz

Overview
Launched in mid 2008, Dealaday.co.nz is a NZ daily deal site offering computer and electronic accessories. They offer 1 product each day at 10am.
Screenshot of the Deal a Day Homepage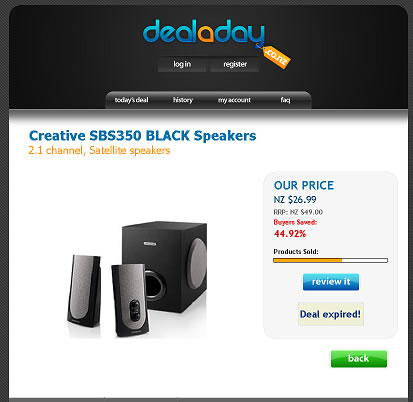 Site Story/History
To be reviewed in near future
Product Range
DealaDay tend to offer items in the computer accessory and electronic area. Although they occasionally have one-off deals like magazine subscriptions and fragrances.
New Product Load Time
On Dealaday new products load up everyday at 10am.
Good points of the site:
Simple Clean Design
Dealaday have definitely sought out talented designers for their site. An almost futuristic feel to the site reflects their leaning towards computer and electronic accessories.
Pago
This is a mobile payment system run by ASB Bank. Credit cards are firmly entrenched in internet users habits but I think mobile banking and payments will because more of a force in the future. The benefit is that you can pay on the spot using your mobile phone. This adds to the impulse nature of the site being able to very quickly complete the purchase. At this time DealaDay is the only company offering Pago on their products.
History of Products and Prices
This is a feature 1-day lacks. The ability to look thru previous months deals to either check prices, or predict when that product you missed might come back online. DealaDay do often repeat items so you get a second chance.
Watch Media Video
No videos are available at this time.
Final words
You can view the site at dealaday.co.nz