If you haven't heard about TreatMe yet then you may be one of the few who don't own a computer! Treat Me is the new daily deals, rather "group buying" site launched by TradeMe. And if you're in the capital then Treat Me Wellington is going to be your new best friend!
Click here to see ALL Wellington Deals including Treat Me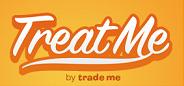 TreatMe Wellington offer one new daily deal, each...day. Yes, every day there is something new for Wellingtonians to feast their eyes (and wallets) on. It could be a restaurant or cafe deal. How about $1 coffees, or $10 for $20 of food at a local restaurant.
Or perhaps food isn't your thing? What about a designer haircut for just $39. Thats $90 off the usual price. So you see the deals on TreatMe NZ vary each day, and you never really know what will be next!
So far, TreatMe Wellington has offered $1 bagels from wellington company, Wholly Bagels. They've also offered $3 for 20 DVD rentals from Fatso. Now, its too late to get these deals - they were only available for 24 hours. While that is a shame, thats the beauty of Treat Me NZ. Each day there is a new deal to discover.
Group buying and deals sites such as Treat Me also offer a great way to organise outings for your friends. If you see an entertainment deal on offer, email it to your friends and see if they are keen. More often that not you can all enjoy something to do for at least 50% off the normal price. Now thats buying power!
Keep watching One Day Deals for news on group buying and daily deals sites.