Living Social Auckland is here and offering deals for Aucklanders.
Living Social sometimes offer "hyperlocal deals" which means that instead of having just one deal for Auckland they will have a deal each for West, City, North Shore and South Auckland!
Click here to view Living Social Deals in Auckland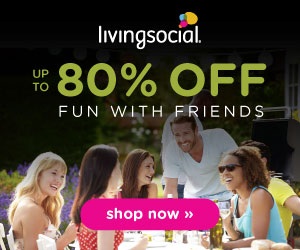 OR: See all Auckland Deals (including Living Social)

This is a new concept to the New Zealand Group buying market. Several sites such as GrabOne are now starting to offer multiple deals in each city, but haven't officially offered, say, a West Auckland deal each day.

So Living Social Auckland will be taking a very local approach, and its this approach which had Living Social predicting that they would overtake world leader Groupon in January 2012.

Not that really matters to us in NZ. But if you are in Auckland then having Living Social Deals here in Auckland is just going to mean a much cheaper lifestyle, and that's fine by us!
To learn more about daily deal sites in NZ check out One Day Deals to stay up to date.