Treat Me Otago will launch soon and offer daily deals to Otago. So whether you are in Dunedin, Invercargill or anywhere in between you'll have access to the great deals that Treat Me offers.
Click here to see ALL Dunedin Deals including Treat Me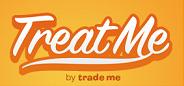 TreatMe Otago is definitely in the pipeline and Treat Me will be launching there before too long. Dunedin with its smaller population than the main centres is often forgotten by group buying sites. This will soon change with a full site dedicated to Otago Deals. What deal will they launch with? Could it be $3 Fatso DVD rentals again?
Whether its movies, cafes, or things to do this new deals sites will keen you interested with its never ending flow of daily deals. Even services will be on offer. How about cheap warrants and other local services. Treat Me Dunedin will soon be your source for lifestyle improving deals. TreatMe (run by TradeMe) has the scope and database to be able to negotiate some great group buying deals with local Otago businesses.
Treat Me Deals have already taken New Zealand by storm. With the large database of members to service TreatMe NZ is set to become one of the the top 2 deal sites in the country.
One Day Deals is your source for NZ daily deal news and information.