Treat me is the new daily deals site run by TradeMe, and if you are in the big smoke then you'll be keen on Treat Me Auckland! Trademe already run daily deals on products, so its great to see them now offering deals on services and experiences.
Click here to see ALL Auckland Deals including Treat Me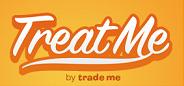 TreatMe Auckland offer one deal each day. It could be half price meals, a cheap hotel package, $1 burgers or a beauty treatment like massage or spray tan. Since launch this site have had some crazy deals like $4 Parakai Pools entry, $1 bagels, $1 coffees and higher ticket deals like $139 for window tinting of your car. The deals are so varied, you never know what deal will pop up next!

When you see a deal you like on TreatMe Auckland, you have to grab it quick! Remember Aucklanders, the deal is only available for that day, AND the deal can even sell out before the day is up. Each day at midnight a new deal will roll over. So whether you are up at that time of night, or get up early, you need to get in quick. Some deals can sell out by midday!

The best idea if you see a Treat Me deal that you like is to purchase it right there. You don't want to miss out! And if you see a deal you like, email it to your friends and organise a day out. That's what New Zealand group buying sites are all about! With something like their $4 Parakai deal, you can get all of your mates together to have a good time, and it won't cost the earth!
Keep your eye on One Day Deals for updates and news about NZ deals.