Living Social Wellington is alive and kicking. New deals each day so get involved!
Click here to view Living Social Deals in Wellington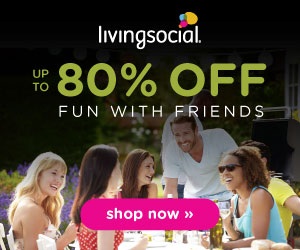 OR: See all Wellington Deals (including Living Social)
Living Social is the world No2 in group buying, or daily deals. Living Social have a dedicated Wellington page showing all the deals they have for the local area.
If you like deals for restaurants, cafes and things to do in Wellington then Living Social will be your new best friend! And rumour has it that Living Social may even localize Wellington Deals further by dividing the Capital up and offering deals for north and south.
This means Wellingtonians are going to be spoilt for choice when it comes to things to do on the weekends! Daily Deal and Group buying sites are certainly taking off here in New Zealand. Considering the concept has been here just over a year, the market is said to be worth up to 80 million annually, and its growing fast.
Wellington has its fair share of tourist attractions so if you live in Wellington but have never bothered checking them out, then Living Social will no doubt have some great 50% off deal available to you shortly. You've just got to sign up and check your email inbox for the deals so you don't miss out!
To learn more about Group buying sites check out One Day Deals and stay informed.