In case you haven't noticed by now, 1-dayOut is no longer. The group buying site from the good folks at 1-day is "goneburgers" according to an official statement on their website.

Group buying sites have taken New Zealand buy storm, now out numbering the number of product daily deals sites. 1-day was the first site to take product deals site into the mainstream, but they were a little slow off the mark to launch their "voucher" site. We would have thought that being the market leader, 1-day would have been watching overseas for trends, and Groupon vouchers were becoming the hottest online shopping trend since online auctions.
But GrabOne and Groupy launched a few weeks before 1-dayOut, and GrabOne in particular expanded quickly throughout New Zealand. 1dayOut only ever got to 4 regions. It seemed that they weren't putting the resources into the site, like they were with 1day products site.
Perhaps they didn't believe that vouchers were going to be very big. Or perhaps ist a case of 1-day's staff already geared towards the products business model. But lets face it, its hard to be number 1 in 2 different areas. They were number one in products, and all their resources were invested in that. Its like trying to get a professional swimmer to be become a professional weightlifter, at the same time.
Group buying at this time was still untested in New Zealand, so all these new sites were breaking ground and discovering how to present deals to businesses. Watching deals sites for the past 3 years, I never got the feeling from 1-dayOut that there were putting much focus on the site.
1-dayOut never really impressed the public to the level that GrabOne did. They didn't have the amazing deals that GrabOne seemed to be able to pull off. We really saw no murmur of 1-day out expansion, and no regions we added after the 4th one.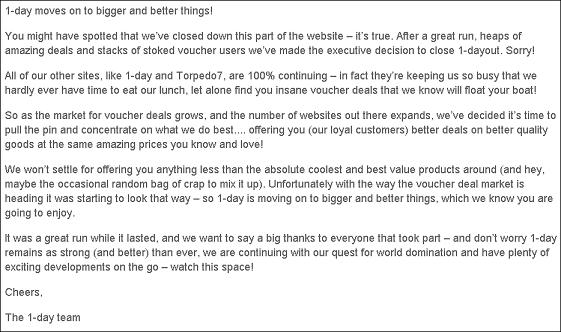 1-dayOut also used to publish their sales figures online, but in Septemeber they removed these from the site. But I am still surprised that 1-day Out has decided to pack in all in. voucher sites can still be profitable once you hit a small critical mass of users, but I guess 1-day wants to be the best at everything they do.
They just needed to put more staff onto the project. They needed to add more regions. 1-day has the traffic to be able to pull it off - they are the number one shopping site in NZ behind trademe. They started from a way better place that GrabOne did. So it is sad, but understandable that they are shifting their focus back to products.
1-day's core competency is in physical products. They have the warehouses, the systems, the manpower and the contacts to continue to dominate. They are still hands down the best product deals site out there, and the brand names they can get together (mostly through parallel importing) still amaze me.They are turning over north of 30 million a year.
I only ever bought one 1-dayOut voucher and that was for a 1 hour scenic flight over Auckland, for $179. Excellent price! In fact, that reminds me, I better book the damn thing before the voucher expires in 2 weeks!