With GrabOne's recent milestone of one million vouchers sold it seems topical to also look at another milestone from the USA. We've no doubt, all heard about Living Social. The world No2 daily deals website has recently launched here in Auckland after a long wait.
But not many in New Zealand know that Living Social has had its own million selling milestone earlier this year. In January, Living Social passed the million vouchers sold mark…IN ONE DAY. Yes, they sold over 1.3 million vouchers in just a day.
The deal was a $20 Amazon.com voucher for $10, and it proved a hit beyond anyones wildest dreams. Remember, before the digital age came along, selling 1 million of anything would have taken some time.
Not to take anything away from GrabOne's recent one million vouchers in 9 months. That is a solid effort that no other kiwi site is even close to. But a million in a day just shows the scope of whats possible in the US market. The Amazon deal launched into 170 markets, or areas that Living Social serves.
The previous group buying sales record was held by Groupon for 441,000 GAP coupons sold. The Groupon GAP deal was for $50 of clothing for $35, and at the higher price of $25 per coupon this deal netted $11 million dollars in a day. The Amazon deal meant $13 million was sold, only slightly more, but its that magic 1 million mark which is the most amazing.
Its common knowledge that Amazon has invested heavily in LivingSocial, in a bid to help in overcome Groupon to become world number one. And LivingSocial are determined to do it, speculating that they will achieve their goal in early 2012.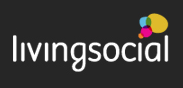 Whether they can ever claw back the gap between themselves and Groupon remains to be seen. Groupon also in on a massive growth campaign, set to also launch in New Zealand in a few weeks.
All we can say is group buying has changed the face of retail, and we're glad that the world leaders are coming down to godzone to offer some crazy discounts.