Some big news in the New Zealand Daily Deals market was announced today. 1-day has launched a new venture called Grocery Grab. The fortnightly sale will offer non-perishable food and household consumer items to 1-day's large user base. This means cheap food deals!
Testing in February showed that the concept would go well if it became a regular event. So 1day are starting off from today, and every second monday after that. As more suppliers come on board the concept will most likely become a weekly feature.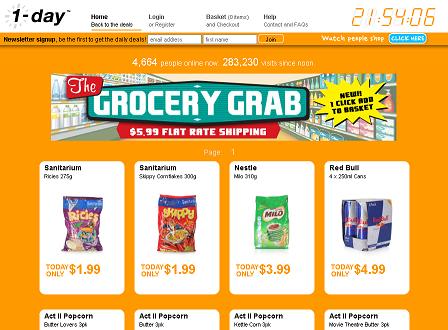 A first look at Grocery Grab on today, shows that there will be a large catalogue of products - not just one product. So, like your weekly shop, you'll be able to browse a selection of products. Today shows us Cereal, Biscuits, Batteries, Makeup, Dog Food, Shampoo, Deodourant, Lollies, soft drink. It look like you might be able to get 10 - 25% off your weekly shopping thru 1day! Delivery is a flat rate of $5.99 - beautiful! Beats the delivery fee of $15 thru the supermarket websites.
If you are reading this article on a monday then try this link or simply go to the 1day homepage.