Update: It looks as though 1day Escapes has shut down. If you have any queries contact either 1day.co.nz or escapesdirect.co.nz
In the past few weeks 1day has added a new tab to it's main 1day deals site. It's called 1day Escapes, and you guessed it, it's a travel offering. So 1day are now in the travel business. You didn't hear that one coming.

This is a surprising move for 1day since they shutdown their 1dayout site back in 2011 (Gosh has it been 3 years!). At the time they said a few things, but mainly that there wasn't much value in the group buying model and that they needed to stick to their core competency, which was selling products at great prices.
They were right about the value aspect of group buying being poor. Merchants giving voucher customer bad service, deals sites trying to price deals very cheap to get market share from other deal sites - It's a race to the bottom. But interesting that 1day are going into travel which is not their core competency.

Granted, this is a different model and group buying vouchers are a very labour intensive and delicate operation. Travel is a lot easier as you as essentially still selling a product. You deal with the same merchant so you aren't having to answer questions from new customers and the new businesses offering the deals.
Thinking about it, group buying vouchers is not a business you would wish on anyone. This is why there is only GrabOne and Groupon and that is about it. It's tough game, and 1day saw this pretty quickly after setting up their group buying site 1dayOut. GrabOne had a massive market share which saw them though, and Groupon was happy to burn cash from investors. Tough competition for a newbie.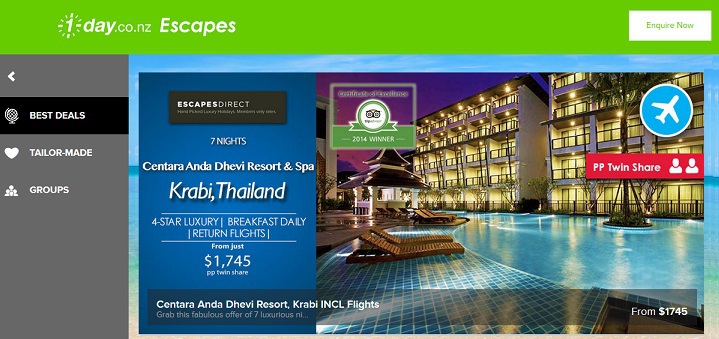 The positives for 1day move to start selling travel deals

More importantly for 1day is the fact that their profit margins on selling on online travel deals is amazing compared to products. They basically earn a commission, and the travel 'products' are in the thousands which contrasts to their usual "cost plus 10% model". (I'm guessing).

There is no inventory. It costs a lot of money to hold stock and dispatch thousands of orders each day. Selling virtual products like travel requires next to no upfront cost. They sell a travel deal and make their commission right away. It's an efficient way to make money.

With 1day's well known brand and their size, Travel Deals are a way to offer something new to their customers. GrouponNZ and GrabOne have offered Travel deals for over 2 years now, so it's high time 1day joined the party.


The downsides to 1day selling travel deals

The downsides are 1day is again getting away from it's core competency, which is selling products. Travel is service-intensive business and a very emotional one.
You are playing with peoples holidays, and if something goes wrong, even likely not the fault of 1day, there is potential for an effect on the brand.
The long delay in going into this market is likely due to the 1dayout element, and not wanting a repeat of it.

It looks as though 1day are not running and booking the deals. They are essentially a reseller. This is great to keep costs down but it means they have less control. And less sway to fix problems.
Holidays are an even riskier prospect than a few restaurant meals. Cheap travel deals have pitfalls. Its great to get a cheap flight, but not so great to get a cheap holiday from a service and expectations point of view.
A lot of the deals on 1day escapes are packages with accommodation included. The thing about packages is you can do too much research on all the elements of the deal.
Remember buying a cheap voucher for a restaurant and receiving bad service BECAUSE you had a voucher? You can get over that pretty quickly after leaving the restaurant. But what about receiving sub-par service, rooms etc when you are on holiday.
When you are not the 'direct' customer, it's very hard to complain about your room etc. You can't threaten to leave because you've essentially prepaid. There's something about cheap hotels that makes me weary.


Online Holidays
Of course this is not anything on 1day, or any other deals sites offering travel deals. It's just that nature of set packages and everyone trying to trim costs where they can to make the deal worth it. Personally, I would never buy a travel package from a deals site. But that's me - I like to research every aspect of a holiday so there are very few surprises.
To me, when you are booking a holiday you either book and research everything yourself, or you get a travel agent. Buying an online deal are you getting personal service? Not likely. It's a pray and hope product. I don't think people like to pray and hope on their holidays. Holidays are stressful enough.
But 1day will have thought long and hard about going into another service. So I'm sure they have covered all their bases. The fact that GrabOne and Groupon still have their respective travel arms must be a big driver. Best of luck to 1day and Torpedo7. Their growth and new ventures sure are interesting to watch.