Its been a big day in the world of daily deals. 20,000 units sold. Burger Fuels Burgers that is. The burgers were just $1 each, so were snapped up in a matter of hours. The deal started at midnight and within 22 minutes, late night bargain hunters had snapped up 1000 burgers.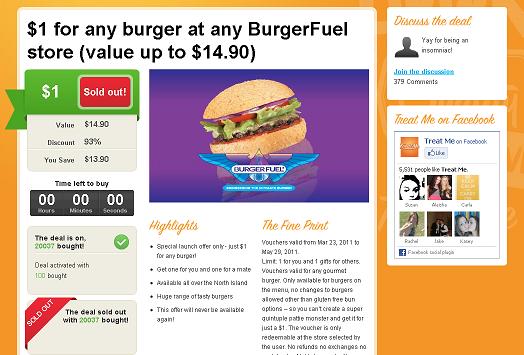 Treat Me promises to shift some serious numbers. With the backing of TradeMe and its membership base to market to, TreatMe will emerge as one of the larger group-buying sites. We are picking they will hit No2 behind GrabOne. GrabOne already has a massive lead with the whole of New Zealand covered. Grab One has also started television commercials to broaden its membership to main stream customers who have never bought an online voucher.
TreatMe.co.nz is definitely one to watch. The first few days will bring some of the better deals. After a month, it will be interesting to see the kinds of deals they come up with. The group buying market is full on these sites, although it takes good execution to get them to work.