US Auctions giant eBay.com has put its hand into the daily deals pie by launching its own version: deals.ebay.com. Could TradeMe.co.nz be soon to follow?
eBay is not the first Internet powerhouse to join in the world wide success of the Daily Deal concept. No3 Internet company Yahoo partnered in 2007 with Woot.com, to create sellout.woot.com which is hosted on the Yahoo Shopping Home page. Woot was the first major Daily Deals website founded in 2004.
With over 30 million registered members, eBay is sure to cash in on the lucrative high-pressure style buying frenzy that has excited punters worldwide.
The site design is very clean, something eBay has been trying to implement across its range of sites.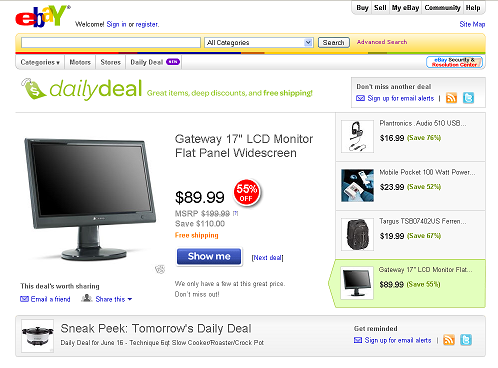 The Daily deals concept is not only a good money spinner, but a good way to increase traffic. It gets users in the habit of checking the sites each day. It also allows these companies to email customers a new deal each day, something that normal businesses would have trouble getting away with.
Deals.ebay.com will be one to watch. No doubt the NZ Daily Deals sites will be keen to see how a massive company deals with the challenges.