TradeMe, New Zealands busiest shopping website will soon be launching their own version of Daily Deals. This promises to be the biggest shakeup to the one day sale category since...well...since it started taking off back in 2007.
Unless you've been under an online rock the past few years you will have come across the extremely popular one day sale shopping site, 1-day.co.nz. The No. 2 shopping site in New Zealand, 1 day has been featured numerous times in Deloittes Fast 50 index of the fastest growing companies.
1-day to a large extent has brought the impulse buying concept to the mainstream with everyone from students to corporate executives frantically buying the specials that are available for just 24 hours, or until they sell out. The one day sale industry has grown virally online without mainstream media advertising. People have got a bargain, and told their friends.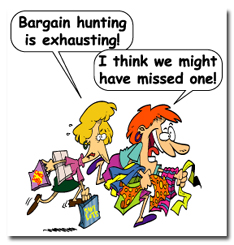 Trade Me's Format
Trade Me will be offering 3 deals each day, in conjunction with larger TradeMe sellers. With NZ's largest base of suppliers (ie thousands of professional Trade Me sellers) this move is shaping up to be an exciting development for NZ consumers.
According to sources, Trade Me Daily Deals have been in the pipeline for a while now. We can only speculate as to why they've waited this long. Since market leader 1-day.co.nz launched back in 2007, there have been close to 30 one day sale copycat sites emerge, all with varying degrees of success. Perhaps Trade Me has been watching the industry to see if it was permanent trend, not just a fad. Trade Me don't like to fail at any project.
International Success with Daily Deals

Internationally, worldwide auctions giant eBay launched their daily deals project back in 2008 at www.deals.ebay.com. At that time we wrote an article entitled "eBay Launches Daily Deals Site - Will TradeMe follow?" It seems like eBay's daily deal format has been successful, as it is still operating 2 years later.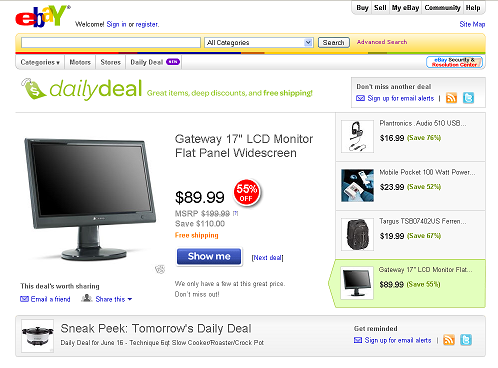 The difference between traditional one day sale websites and the offerings from auction sites are the fact that they don't hold and process the stock, the sellers do. This is one area that has been an inhibiting growth factor for many NZ daily deals sites - Where do they hold all the stock? How do they manage the logistics of large volumes of orders to be shipped out?
Trade Me's Daily Deals launch later this month will be an interesting one to watch. I'm sure we'll go along for the ride too, and pick up some great bargains.
Source: http://www.OneDayDeals.co.nz
Written: June 4, 2010
Permalink: http://www.onedaydeals.co.nz/webapps/site/84412/184209/chat/blog-item.html?info_id=283208
This article may be used in full provided the source is noted. If posting online, a link back to http://www.OneDayDeals.co.nz must be provided.
We can also be contacted here