New Zealand auction website Sella.co.nz is soon to launch their own "one day sale" shopping site.

We have received confirmation that auction website Sella.co.nz is launching their own daily deal site, GrabOne.co.nz

We've checked out Sella's GrabOne offering and we have to say that it is shaping up to be an exciting addition to the market. GrabOne operates in the mould of successful overseas site Groupon.com. Groupon is sweeping the USA in BIG way. The stats are impressive...6 million deals sold in just 18 months. Deals are offered daily in over 80 cities worldwide. This concept is unique, and will certainly make a change from the other 1day.co.nz copycat sites flooding the market.
Grab One's tagline is "Buy Together, Save Together". Traditionally you can normally get a good deal if you buy in bulk, or if you book a group of 10 or more. The power of "group buying" gets ridiculous if GrabOne sells out a deal and then guarantees the supplier 100 or more pre-paid bookings!
What will make Grab One different, will be a focus on services, rather than physical products. In particular, services offered on the site will be related to a local area, such as Auckland Deals or Wellington Deals. The impulse sale concept has not really been applied to Services in a big way yet. It's an untapped market. (Although DailyDo.co.nz and RotoruaOneDayDeal.co.nz do currently offer services)
Targeting by city will allow GrabOne the space for multiple deals each day. Leading site 1Day is limited to just 3 deals each day, whereas GrabOne could potentially have one deal in 10 different NZ cities, per day.
But wait...theres a twist. The deal will only be available if the required number of people take up the offer on the day! If they need to sell 100 services minimum, and they only sell 90....the deal is off for everyone!
This opens up a whole new meaning of the word frenzy. We'll no doubt see users pestering their friends to buy the deal as well, so that they bump up the numbers. We can see social media channels inundated with users promoting the day's deals!
So what type of deals should we expect?
In short: Food, Clothes, Gyms, Bars, Sports tickets, and dozens of other categories. The difference is that customers receive coupons which they then redeem with the store directly. Here are some examples of popular deals offered in the USA: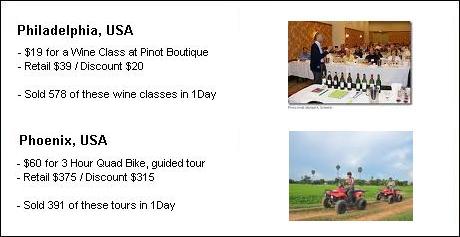 Services that will work extremely well include the hospitality and tourism sectors. Flights, tours and experiences will no doubt be popular categories to come. A potentially "explosive" area for deals could be Restaurants and Meal Packages. We are just speculating at this point but imagine a restaurant selling 200 meals at a discounted price. Thats a restaurant fully booked out for days after the sale. There is media coverage in the States of the concept generating over 700 local bookings for one business!
This type of deal is a win-win for everyone involved. The restaurant gets punters in (with repeat business likely), the customer gets a great deal, and no doubt Grab1 makes a nice commission too. Suppliers of the deals get a guaranteed minimum level of sales.
We also have word that GrabOne will be taking more of a corporate approach by partnering with big business names in NZ. This will lend to GrabOne's success as there will be instant brand recognition from customers, and quality of services assured.
Offering services for sale also has the main benefit of avoiding the logistics hassles of sending physical products. This will allow GrabOne to scale up relatively quickly.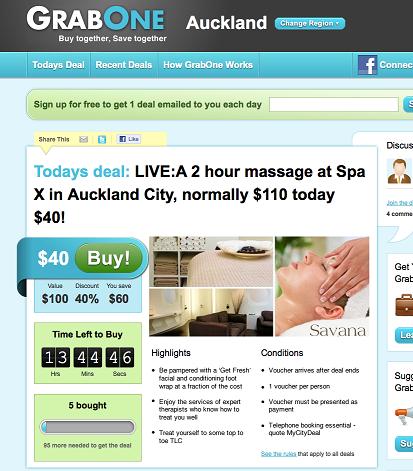 Sella is part of the APN network (who also publish the NZHerald). APN has New Zealands largest network of advertisers, many of which will no doubt become Grab One suppliers. Sella's technology team has the resources to make this site a success. And going on Sella's fighting spirit in the auctions space, some great deals will be made available for customers.
So we will be waiting patiently for this next one day sale website release. GrabOne looks as though it will freshen up the market place with some very interesting deals.
You can pre-register on the site to get the first deals when they launch.