1-day.co.nz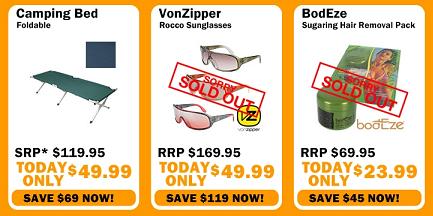 A great price today on Vonzipper Rocco Sunglasses. This is pretty close to cost, so 1-day are obviously keen to clear stock in this style. 1-day strategy is too hold lots of stock, so Ido wonder how they are faring in the current recessionary market with their stockholdings.
Bodeze Sugaring Hair removal Pack. This is the stuff that used to be on the informercials. Good to see 1-day branching out for towards female products. I have also noticed ads for one oday on the back of supermarket coupons. Up until now torpedo7 and 1-day havent undertaken any formal advertising but now we are starting to see some initial mass market media. I suppose its a good idea to target the bargain conscious Pak'n Save shopper! And also would probably appeal more to a female audience being on the back of a supermarket docket.
Finally today we have a Foldable Camping Bed for $49.99. Not the best price in the world considering they sell a complete tent set with sleeping bags for the same price.
DealaDay.co.nz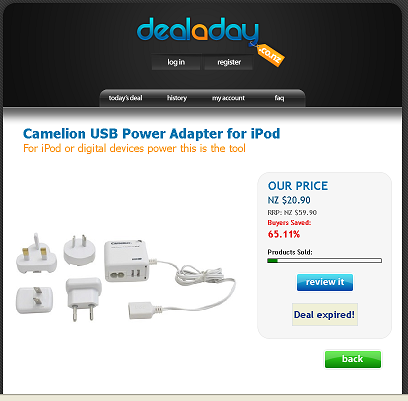 More gear from Camelion to day on DealaDay.co.nz. A useful tool here, this multi adaptor will fit most ipods and allow you to run and charge your ipod while away from your computer. Unfortunately with 24 hours gone since the auction started, it looks like they haven't even sold a thing according to their Products sold bar. Perhaps they should make it lookk like more have sold and keep the bar right down the other end for ages to look like the product is about to sell out. From what we have seen Dealaday have never sold out of a product, and I'm sure they don't plan to with their dropshipping business model.
1 Day Sale Review