1-day.co.nz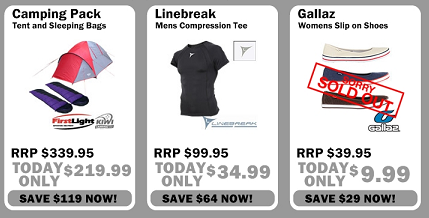 Gallaz Womens Slip on shoes have sold out already. And at $9.99 for a pair of shoes, why wouldn't they! There are a lot of comments about how they break quite fast, and are made of inferior materials. But hey for $10 who complaining, its like buying $10 shoes from the warehouse and complaining they break in the first month. This item had a record beating 65 comments for this product! A first for 1-day!
Camping pack Tent and Sleeping bags by FirstLight. Not a cheap price by any account but if you know camping gear then it could be a good deal for you. Previously One day have offered a camping set like this unbranded lower quality for $59.99 including tents and sleeping bags.
Linebreak Mens compression Tee for $34.99. These have been featured on 1-day before. They are designed for athletes or active people to wear while training.
DealaDay.co.nz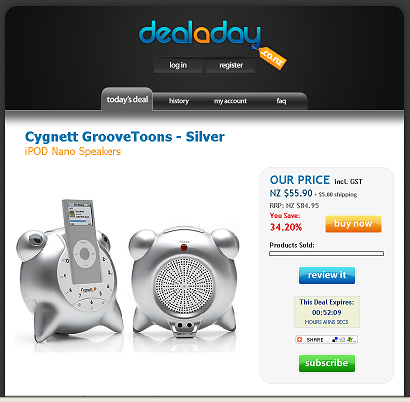 Well, an interesting product today. Cygnett GrooveToons Silver Ipod Nano speakers. These look really unique! I wonder if they fit the new nanos, as the one in the pic looks like the old nano. And you guessed it, its an alarm clock as well. Quite a nifty item!
1 Day Sale Review