1-day.co.nz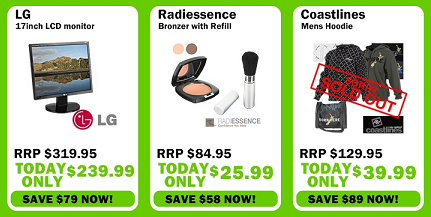 Radiessence is back on 1-day. Previously it was Foundation with refill for $29.99, now its "Bronzer with refill" for $25.99. I wonder if they have just changed the name and its the same product? Anyway thats a price drop in its self so they must be looking to clear stock. I wonder when the next Crapped out sale is?
LG 17" LCD Monitor for $239.95. A reasonable deal but not amazing. You can normally pickup up a 17" for this price at a lot of places.
Coastlines Mens Hoodie for $39.99. Coastlines is a NZ company who are a lower end brand that has everything made in China. They seem to white label existing products, not have stuff specifically made. An easier business model and one thats I suppose suits the lower end of the market. I hihgly doubt their hoodies retail for $129.95, I think I have seen them around the $80 mark.
DealaDay.co.nz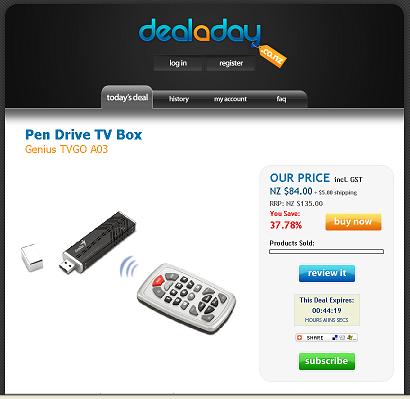 Pen Drive TV Box TVGO A03 by Genius. Seems quite a nifty device. You can watch regular TV on your PC monitor and with the PIP (picture in picture) re-sizing feature, you can work on your PC and still watch your favorite TV or video programs, without interrupting whatever you're doing.
Would be worth a try I reckon, and a bit cheaper than the Pinnacle TV Tuner.
1 Day Sale Review