1-day.co.nz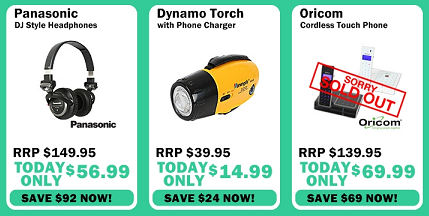 1-day has brought back the Dynamo torch with Phone Charger. Waht a nifty device for only $15.00. They've offered this device before and it seems like a great product. You wind it for a minuite and it gives you 30 minutes of power, or enough charge for your phone to give 2 minutes of talk time or about 20 minutes of roaming/texting. This is an essential item for the glovebox!
Oricom Cordless Touch phones are back! And they've sold out already! not a bad price for $69.99, and they look quite sleek as well.
Panasonic DJ Style Heaphones for $56.99. Well more ugly headphones! I honestly don't know who would wear these apart from...a DJ.
DealaDay.co.nz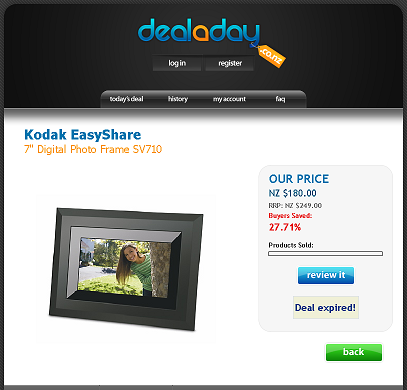 Kodak EasyShare 7" Digital Photo Frame SV710
These digital photo frames have always fascinated me. They seem like an okay idea becuase you can easily change pictures but they seem extreme overkill! You have to pay for the power, you always have a light on to show the picture. $180.00 is an extreme price. (I think you can get cheap ones for about $30). This is one of those totally unnecessary inventions!
1 Day Sale Review