1-day.co.nz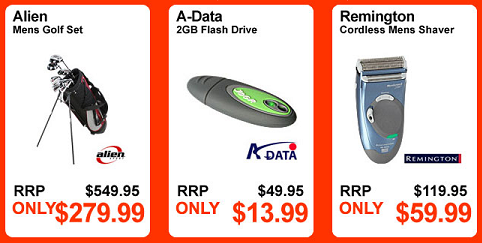 Alien Mens Golf Set for $279.99
Never hard on Alien as a goldf brand before - except on 1-day. So I can't comment on the price. It sounds like a cheap asian brand to me. I'm not sure who as a golfer would use gear called Alien!
A-Data 2GB Flash Drive for $13.99
After sort of bad mouthing this brand in earlier posts because I hadn't heard of it I am now changing my view. A-Data is stokced in Warehouse stationery so must be at least half decent. I actually purchased a memory card for my camera - but time will tell whether I lose photos due to product failure. A-Data still seems like one fo those cheap asian brands. Even though it is in Warehouse stationery its one of those lower end brands.
Remington Cordless Mens Shaver for $59.99
Remington is a decent mid range brand. 1-day do tend to sell a lot of remington products. Remington is a bit of a funny brand. I'm sure they are a K-Mart style brand who make a whole host of appliance style gear, especially hair care products.
DealaDay.co.nz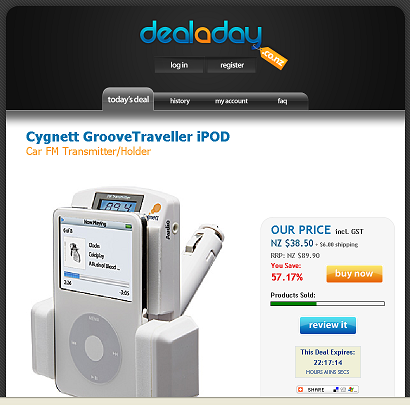 More Ipod gear from DealaDay. This time its a CAR FM Transmitter and iPod holder. After owning one of the ipod trasmitters I would probably caution against it for good quality sound. Its okay for a quick fix but at times it can be staticy. Better to have a cable that runs between your head unit and your IPod. Still for $38.50 including a holder its decent buying. Cygnett Groove Traveller iPod Car transmitter/Holder.
1 Day Sale Review