1day.co.nz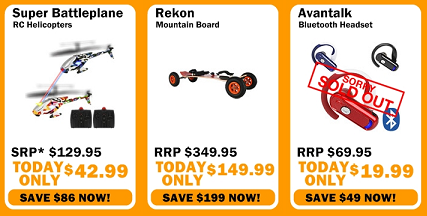 Rekon brand is back. This time with a Mountain board for offroad mountain boarding. $149.00 I suppose is an okay price for one of these items. Would be better if it had a motor. Because of the bulk of these, they can be pretty dangerous, so be sure to wear a helmet.
Super Battle RC Helicopters. I know I keep saying it but RC toys seem to be very popular on 1-day. Lets examine why. 1-days audience is more male oriented so these sorts of things appeal to guys. Memoriers. Every male used to have a radipo controlled toy when they were young. This kind of offering brings back those memories and what better chance to do that by buying one of these products on impulse thru one day. Most guys wouldn't normally be exposed to toys, unless they had kids. Guys don't normally head to the toys section of their local store! So by surprising website viewers, 1-day is appealing to those who would never go to a toy storem and never knew they wanted one to relive the memories ! And ofcourse the low prices on 1-day appeal to the impulse factor. RC Toys were at less $100 each when I was younger, and for $0 odd dollars you can get some amazing technology these days.
Avantalk Bluetooth Headsets are back for $19.99. Its a great price, and it makes you wonder why people would be $99 and over for a Bluetooth headset elsewhere.
Dealaday.co.nz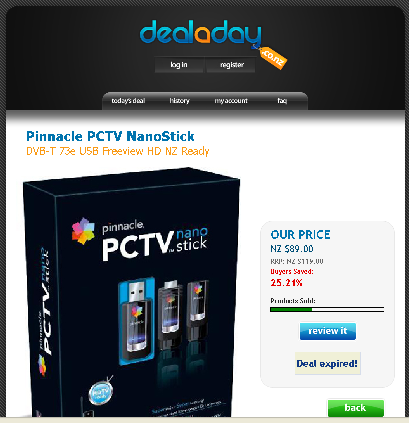 Pinnacle PCTV Stick DVB-T 73e USB Freeview HD NZ Ready Nano Stick. These seem to be different from the earlier offerings of Pinnacle TV Tuner, and Pinnacle Video Transfer. Either way Pinnacle products seem to be very popular on dail deals sites. And as far as Dealaday goes this product is selling quite well for them if you check the products sold bar. I've never seen it quite this high.
1 Day Sale Review