1-day.co.nz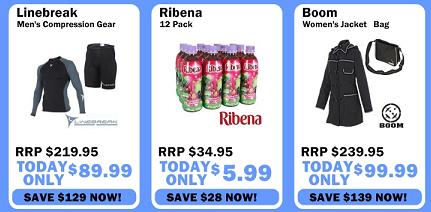 1-day keep it coming with 3 brand new products on offer. Ribena 12 pack for $6.00 is a great deal. Although they do expire in about 5 days. Still a great deal though and a last ditch effort from Ribena before they expire. This firesale is a gret concept for selling soon to expire food!
For the ladies is a Womens Jacket and Bag. Not a super price but still reasonable I guess. I don't know who would ever pay that retail price for the Boom Label.
Linebreak compression gear. This skin tight clothing seems to be more and more popular with athletes. Other notable brands are Nike, Skins and the USA major manufacturer Under Armour. For what they are these garments are expensive. This price of $89 is more of the regular retail price in shops for similar items. Again I don't know who would ever pay the retail price of $219.00 when rebel Sport sells this set for around $99.00
DealaDay.co.nz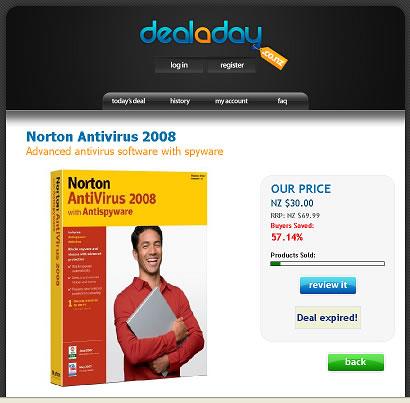 Norton Antivirus 2008 with Spyware seems a decent deal. Although I hope this isn't OEM software. I do wonder if Dealaday ever sells out of the days item? Or whether they even plan too? Would be interesting to know.
1 Day Sales Review