1-day.co.nz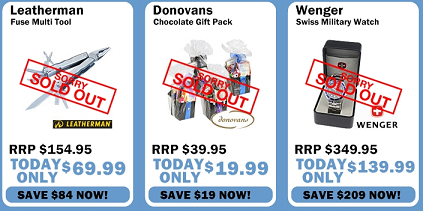 A very sucessful day it seems with all items sold out by 9pm. The top of the main page says "Appreciate your dad this Sunday" so this statement has obviously either reminded people about the upcoming Fathers Day or triggered some guilt!
I thought the Multitool was a bit overpriced. These can usually be picked up for about $30 unbranded. Haven't heard of Leather man - perhaps its a top of the range brand. But probably not.
Chocolate is always a good easy gift. Haven't heard of a Wenger Swiss Military Watch but if thats the real RRP it sounds like a good deal.
Dealaday.co.nz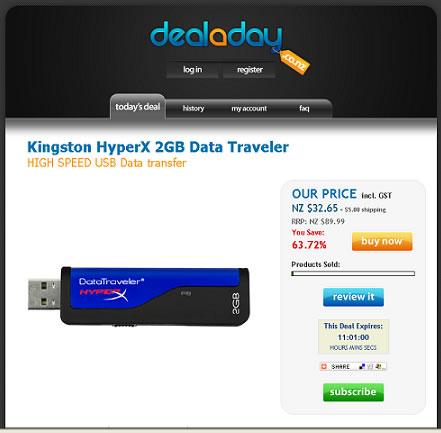 Not an "exceptional deal" today from Dealaday. 1-day were selling 2x 2GB Stick last week for $20. Albeit they were no name brands. Kingston is a a relatively good brand but no one would pay the RRP of $89.99 for HyperX 2GB. Dealaday need to go a bit more extreme on their pricing to gain more customers.
And after I had written this review I read further down on the deal a day site where users can make comments. this is what someone had written:
a stupid deal
"...Noone in their right mind would buy a usb stick for $32 dollars let alone $89! You can buy a 4gb one for $25 from studentIT. You need to do better dealaday ;)..."
So yes I agree. Lets have some better deals Dealaday. Wow the public here!
1 Day Sale Reviews