1day.co.nz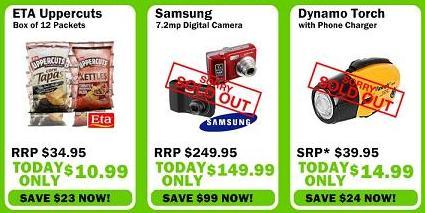 An exciting day on 1-day.co.nz. The first product is ETA uppercut chips box of 12 for $10.99. What a great price considering these sell for at least $2.00 each at the supermarket and up to $4.00 at Liquor shops and service stations. It works out to about $1.20 each packet after shipping. I would have thought this product would have sold out by now, but perhaps they have a container load to sell!
Next up is a Samsung Digital Camera 7.2mega pixels. Already sold out and with good reason. $149.99 is a great price for a branded digital camera. Lastly there is a Dynamo Torch with Phone Charger. This is one of those nifty devices where you crank a winder to create the power. Ie wind the handle for a minute to get 5 minutes of power. I didn't notice the phone charger thing otherwise I probably would have ordered at $14.99. I do wonder how effective the phone charger would be, and hope it wouldn't damage the battery. A decent price too, these can reatil for up to $59.90 here: Beprepared.co.nz
DealaDay.co.nz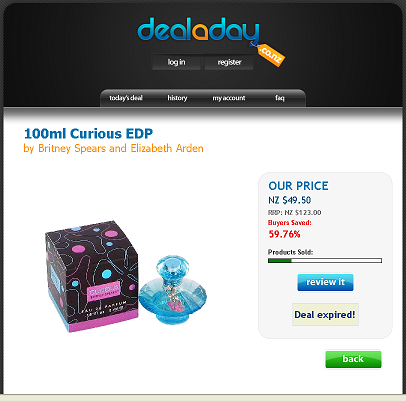 A bit more variety coming thru from DealaDay.co.nz. 100ml Britney Curious on offer. The price is reasonable though not amazing. TradeMe you can find for $50 easily. But good on Dealaday for branching out from electronics.
1 Day Sale Reviews