1-day.co.nz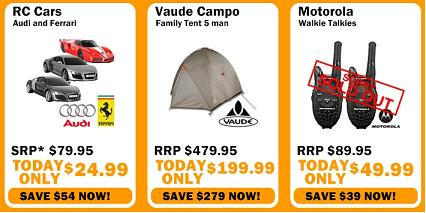 A "Boys toys" day today at 1-day. First up we have RC Cars by Audi and Ferrari. Quite cheap for licenced products I would have thought at $24.99 each. These unfortunately have a few limitations. 3 different cars but they all use the same frequency so you can't operate more than 1 together. Also it takes 4 hours to charge the batteries whihc only last for 15 minutes. So perhaps the manufacturer was trying to get rid of them for cheap, hence the very low price offered here.
Next up we have "Vaude Campo" Family 5 man tent. I haven't heard of Vaude before and as the price isn't cheap I assume its a decent brand. I'm sure the brand will be better known to the adventure crowd more than the average punter. Which leads us to a question. Who makes up 1-days clientele? Is it those who use Torpedo7 - the adventure sports types? Or does 1-day attract a different kind of customer. I do hear people screaming for more girls type products, be I will hazard a guess that most of 1-days customers are men.
Finally we have Motorola Walkie Talkies. A real guys products. These are great for having on the mountain while snowboarding, they are excellent in fact and way better than a cellphone. And at $49.95 they are a perfect impulse item. And as it happens they have sold out!
DealaDay.co.nz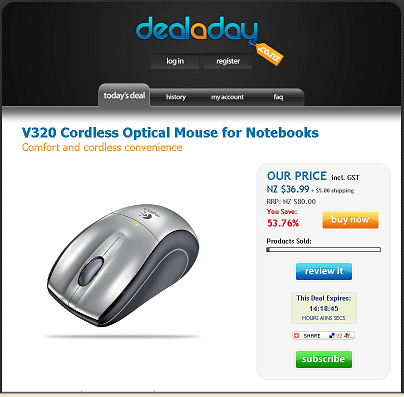 Today brings a Logitech V200 USB Notebook mouse from DealaDay. I'm not usre what it is about dealaday but I never seem to be as impressed with them over 1-day. Perhaps its because 1-day have 3 products instead of 1, and theres more chance of an exceptional deal. 1-day tend to have "random" items which take you buy surprise. Of course DealaDay is just 1 deal per day, but its not as exciting as 1day.
The Logitech mouse seems an okay price but again, its not spectacular. I believe1-day is more of an advertising site for other businesses products as I think they don't hold stock them selves, they send the order direct to the supplier. so I guess its probably a more efficient business model than 1-day who generally would hold the stock and despatch themselves. And of ocurse if a products doesn't sell out they are left holding it in stock until the next "Crapped out Sale"
So I guess its a tradeoff. 1-day hold the stock so can offer better deals as they buy in bulk. Dealaday don't hold the stock and rely on others for their despatch so they can't offer as low prices becasue of this. So I belive 1-day is better for customers, but the Dealaday system is a more "efficient" business model.
1 Day Sales Review