1-day.co.nz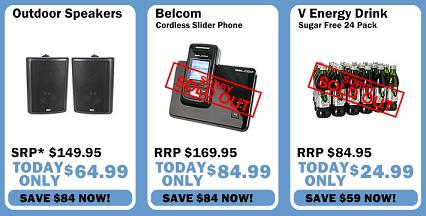 A very successful day it seems for 1-day. 2 products have already sold out. Although they may have only had a few of each item to begin with.
The One Day Deals concept has its pros and cons. For one, if you sell out of a product within a few hours, the website real estate space is wasted as you could have had another product there, or more of the same product. So there are inefficiencies in this model.
And again if a product dosen't sell out it is sitting around in the warehouse unable to be sold as there is no other channel that 1-day uses for the unsold except their (Monthly it seems) All Crapped Out sales where they fire sale everything that didn't sell inthemonth by changing the product every 20 minutes.
I followed one of the earlier sales where they wouldn't change products every 20 minutes, only when sold. This was easy enought to keep track of all products on offer, as you could tell what was selling out. With their new model of changing the products every 20 minutes regardless of whether it sold out, meant that to see all deals on offer you had to check the site every 20 minutes! Not an easy task but no doubt very effective for the sites and sales.
Although, having a Sold Out sign is also good for business, as people see that they missed out and it of course makes them curious. So a Sold out sign can be both a Pro and a Con.
Also as you can see above 2 of out of 3 products have sold out. Does this make the unsold product look like not such a good deal as the others? Of course they could have lots and lots of stock in that product.
Re: Todays products:
Seems cordless phones are quite popular on 1-day as they have a sold out a few weeks ago. A Belcom Cordless Slider Phone on offer for $84.99.
Another Food offering with a 24 pack of V. Good buying at $24.99! I suppose Frucor (the maker of V) will have a permanent agreement to sell old stock thru the site. What a great business model to be able to do this!
I'm not sure if you have heard but 1-day did a Red Bull sellout and sold 34,000 cans of Red Bull in a few hours. Thats some serious sales power!
The outdoor speakers on offer today haven't sold out yet. Wahts wrong with them! Its a new concept - Outdoor speakers. You permanently erect them outside in your BBQ area. After checking the customer comments sction on the site I can see whay they havent sold out. Check out this comment:
rob says: these are gay.

What a rip off.

You would be better off just using your speakers from a stero they would produce more power than these pathetic things.

Maybe if they where selling for 5dollars that would be ok but not 65dollars.
And after reading the actual product description, this product is not whats its cracked up to be.
No wiring included. You need an amp to run them. they aren't waterproof, and they are only 15Watts which is pretty pathetic! What a crap product....
DealaDay.co.nz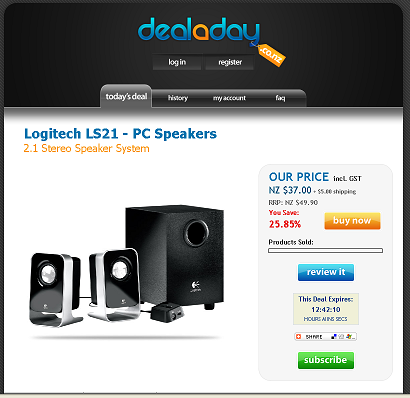 More Logitech products on DealaDay. Logitech X-530 Speakers, 70 Watt, 5.1 system. Its now obvious that DealaDay have an agreement with Logitech to sell stock from their warehouse. A nice arrangement if you can get it. No packing, no despatch!
This product here is 70WATTS. So compare these tiny things to the behemoth speakers above from 1-day at only 15 Watts, you can see why they haven't sold out on 1-day!
The price is reasonable, though as always with 1-day, not amazing. I see DealaDay more as an efficient business model than a successful market grabbing daily deals site. It makes money, quite easily, but its not going to crank millions. At this point ot may be beneficial to check out the originator of Daily deals sites www.woot.com. Check it out!
1 Day Sales Review