1-day.co.nz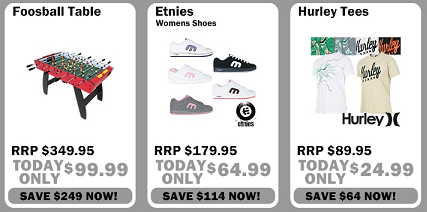 Foosball tables are back on 1-day. And for $99 why wouldn't you. They aren't Full sized but still good for mucking around on. I think I will buy one!
Etnies Womens Shoes. A very good price also for Etnies Shoes. A decent size range too. Good buying here.
Hurley Tees. Another great apparel deal. $24.99 for a Tee is good buying, although again I don't believe their $89.99 claim. $59.95 is quite common but not $89.95 for Hurley, thats a lie.
DealaDay.co.nz
More electronic goods from DealaDay today. Wow...the iPhone. People keep raving and raving about this. I don't know 1 person who has one, too expensive. although they do seem to be nifty gadgets. A cellphone case is an extremely boring product for dealaday. You can keep cheap ones for a few dollars, and only a small percentage of people will shell out for one over $20.00.
1 Day Sale Review