1-day.co.nz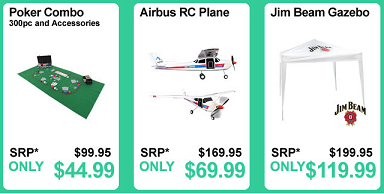 Friday on 1-day brings with it a lot of fun items which would make great Xmas gifts!
Poker Combo 300pc and Accessories $44.99
A great price for a full poker set! Everything you need here including an automatic shuffler. These are great and take the chore out of dozens of shuffles. These shufflers do have a tendency to break and be pretty noisy though. Good buying here.
Airbus RC Plane $69.99
Any day now I am going to buy on of these RC Plances off 1-day. They look so fun and itll be amazing to see it take off and land by itself. Although $69.99 is a good price for the technology, I'd rather wait til they are a bit cheaper!
Jim Beam Gazebo $119.99
Unforutnately this style Gazebo really are crap to work with. these aren't the ato opeing ones, these are the crappy pole ones which take an hour to construct. They poles will rust over one summer and they have a tendency to end up in the neighbour front yard if it gets windy! Terrible price point too. You can buy these without the Jim Beam logo for around $30 at the warehouse I believe.
DealaDay.co.nz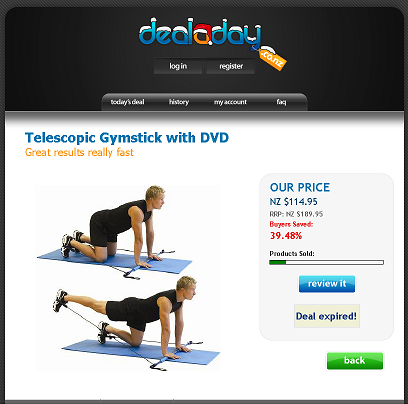 1 Day Sale Review