1-day.co.nz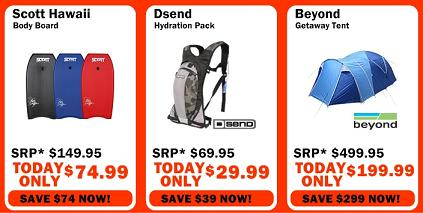 Scott Hawaii Body Board $74.99
Well, I remember the brand Scott. Was really popular a few years ago. I've been out of the scene for a little while now but I remember them as one of the market leaders in Body Board gear and good to see they are still going. Perhaps its because I've not looked in a surf mag for a few years! Looks to be good buying here. I could never afford a good Scott board back then.
Dsend Hydration Pack $29.99
I'm almost tempted to grab one of these actually. They have a bladder in the backpack which you fill up with water or whatever liquid you want. Vodka! Great for exercising but also great as a casual accessory for the beach, concert or any occasion. Very good buying at under $30!
Beyond Getaway Tent $199.99
Not too much of an expert on tents but $500.00 does seem a lot for a tent. But 1-day to the rescue with $300.00 off RRP. So looks like good buying at $199.99.
DealaDay.co.nz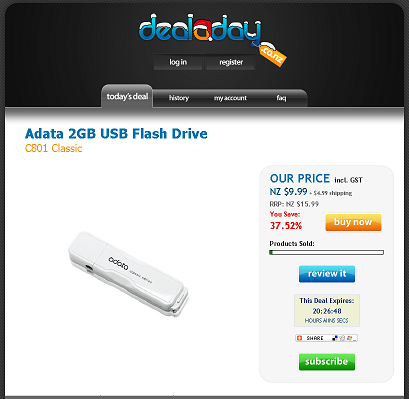 A-Data 2GB USB Flash Drive $9.99
A-Data products seem to be quite popular on the daily deals sites. I suppose because they are cheap and can get a first time customer to spend $10-$20 to try the website out for the first time. Then hopefully the customer will feel better about buying a larget ticket items in the future. Lets face it, at $9.99 Dealaday are probably losing money on each package sent out (after packing etc) so its obvious this kind of product is a loss leader. One piece of advice. These sticks are very handy but don't store you're only copy on one of these as, if it breaks, you've lost your data for good!
1 Day Sale Review