1-day.co.nz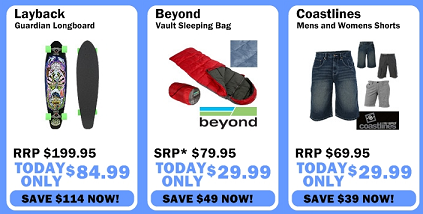 Layback Guardian Long Board $84.99
Definitely a Summer feel here today at 1-day! Once again skateboards are on offer, and this time a Longboards for carving up the beach carpark before a surf. Although I haven't heard of the Layback brand before it seems a decent discount off the RRP.
Beyond Vault Sleeping Bag $29.99
Just in time for the summer Camping season is a Beyond Sleeping bag. They are warm down to 0 degrees so you'll be nice and toasty. Good feature is the unzip from the top and bottom so you can let your feet breath without opening the whole thing! Also features an arctic style hood so you can even close it up around your head. These hoods are great because they can also act as extra padding for a pillow that standard bags don't have. Time is definitely running out for pre-Xmas delivery so I'd get cracking today Monday to get your final products off 1-day before Xmas.
Coastlines Mens and Womens Shorts $29.99
Coastlines is a NZ private label brand run by Surfer Sean Kennedy. A great concept for NZ surfing - Coastlines has a lower price point than the larger multinationals and a local flavour in their designs. No wonder Coastlines has been successful here in NZ. Good buying here for Mens and Womens shorts at under $30.
Dealaday.co.nz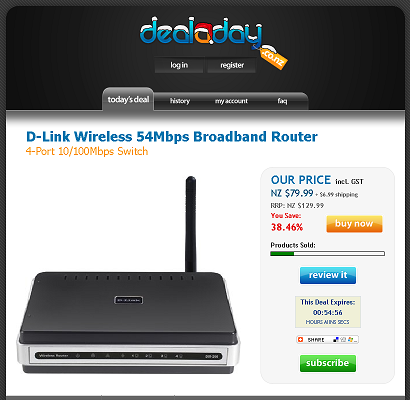 D-Link Wireless 54Mbps Broadband Router $79.99
Unfortunately this router is the lower spec 10/100 Mbps. They tend to make 100/100 spec now. Still, unless you are a high speed gamer this unit will more than suffice for the next couple of years! A very good price for a wireless router too. D-Link of course is a very well known brand so you are buying a quality unit with tech support from ISP's. So if you ever have any trouble with setup your ISP can run you thru set up in flash. And of course the best part is its wireless so you are free to move around the house at will. Great for the hot Summer around the corner!
1 Day Sale Review