1-day.co.nz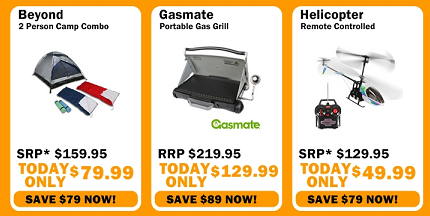 Beyond 2 Person Camp Combo $79.99
You can't go wrong with a complete camping set for under $80. The set consists of A 2 Person Dome Tent, 2 Sleeping Bags and most importantly 2x EVA Mats! You can't sleep in a tent without some padding to lie on. Great Buying at $79.99.
Gasmate Portable Gas Grill $129.99
Gasmate is avery popular Camping brand so you knmow you'll get a quality product here. Its even got a George Forman style drip tray so the fat drips out and keeps you healthier. This unit is also good as it can run off your standard barbecue cyclinder and the handy gas canisters to save space if you don't want to lug around your LPG cylinder.
Syma Swift Helicopter Remote Controlled $49.99
Last chance for toys before Xmas! Fun for the kids, or yourself. This product is about to sell out so be quick!
Dealaday.co.nz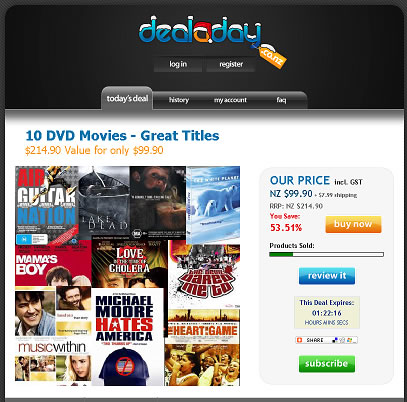 10 DVD Movies for only $99.90
Great concept but go to the warehouse and you could get most of these for $10 or less in the bargain bin... and you'd get to choose titles.
Air Guitar Nation, Love in the time of Cholera, Wendigo, White Planet, The Devil dared me too, the heart of the game, Lake Dead, Mamas Boy, Michael Moore Hates America, Music Within.
Still a good gift to give for Xmas. Be quick to get it in time!
1 Day Sale Review