1-day.co.nz
Holy Crap It's Nearly 2009 Sale!
The Crapped out sale is Back and this time with some new products. We'll quick review a few of the different products throughout the day.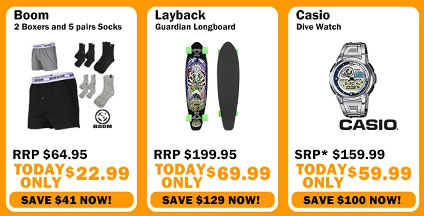 Boom Boxers and Socks Pack $22.99
Seems either 1 day are still stuck with these Boom products, or they are such a good seller!
Layback Guardian Longboard $69.99
Interesting to see that the previous price on these longboards was $84.99, just last week. So in crapped out sales you really do get an amazing bargain.
Casio Dive Watch $59.99
A great discount here off the RRP.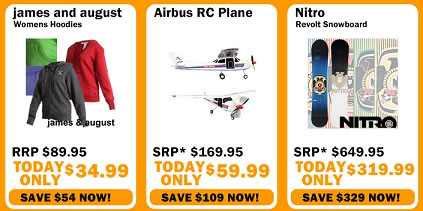 James and August Womens Hoodies $34.99
This is Sally Ridges brand, ex-wife of Matthew Ridge. Can't say the brand or the designs appeal to me. Hey I'm not female so okay. But yeah they don't appeal. I don't get what the brand is about either. I've seen these hoodies in Rebel Sport selling up to $120 each...
Airbus RC Plane $59.99
I've been wondering whether to buy one of these or not. The only drawback is the 10 minutre fly time. It;d take longer than 10 min to get to the park! Not really worth it in my opinion for the 60 minute charge time. Perhaps next time they will have one with better specs.
Nitro Revolt Snowboard $319.99
Not to much of an expert on snowboarding but it seems like a good discount here off the RRP although these kinds of products do have big margins. One of the more expensive products to be sold on 1-day thus far. I suppose its a good time to clear snowboard stock as who really buys snowboard during the Summer.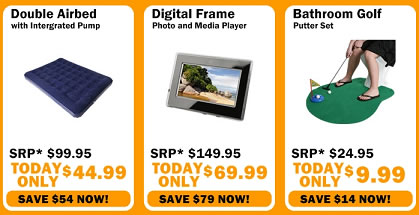 Double Airbed with Pump $44.99
Great idea for Summer. Pretty cheap price too and it includes the pump.
Digital Photo Frame $69.99
How do these cost so much? It seems to me to be quite simple electonics, although I suppose it does have a screen. It would annoy the hell out of me a light going all night. I prefer a normal picture thanks :)
Bathroom Golf Putter Set $9.99
What a sick idea for a product! Funny though, and for $9.99 why not fill your house up with more crap! Very unhygienic. and what do you do when you accidently hit the ball to the other side of the room! :)
1 Day Sale Review