1-day.co.nz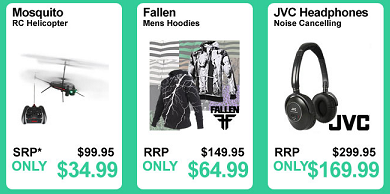 Radio control products definitely seem to be popular on 1-day. I guess its that playful side we all have from when we were kids! One of these days I'm going to buy on of their RC planes.
Fallen Mens Hoodies for $64.99. fallen is a skateboarding brand, that is not too well known outside of Skateboarding circles. The price seems quite good.
JVC Noise cancelling Headphones for $169.99. I don't know who would wear these these days. Most people prefer the bud style earphones. Maybe these would suit a sound engineer or something. I certainly would never spend that much on headphones. A very niche product here.
DealaDay.co.nz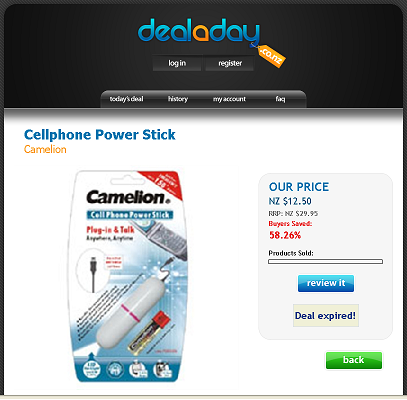 Cellphone Power Stick by Camelion. We've heard of Camelion before but it is one of the lower end electronics brands. The function of this unit is for when you run out of battery on your cellphone to be able to get instantly powered up again. Great concept tho we do worry about whether charging the phone in this way might damage the cellphone battery. For $12.50 it could be a great thing to keep in your glovebox for emergencies. Because we all know the frustration of running out of cellphone battery when out and about.
I wonder if you can recharge the actual unit for more than one charge?
1 Day Sale Review