OffTheBack.co.nz
Belcom SureCall Cordless Phone $49.99
You can't go wrong with a cordless phone for under $50. I remember a few years back you simply couldn't get one for less than $99.00. Things have certainly changed. Belcom is also a fairly well known brand so a lot safer to buy than an unknown.
1day.co.nz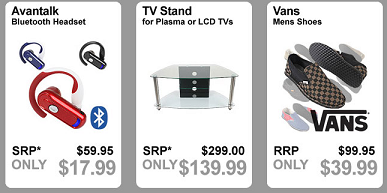 Avantalk Bluetooth Headset $17.99
Avantalk is always a popular product on 1day, and for under $20 it's obvious. A great little device. Make sure your phone has Blue tooth first!
TV Stand for Plasma and LCD TVs $139.99
Great looking cabinet for your TV. This piece could complete your living room. And with the penetration of plasmas now I'm sure this will be a popular product.
Vans Mens Shoes $39.99
Quite a good price for Vans Shoes,in fact its an exceptional price. 1day must have some substantial buying power to be able to offer them this cheap. Very good deal.
Dealaday.co.nz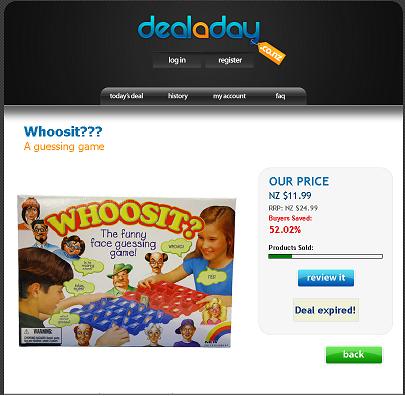 Whoosit??? Guessing Game $11.99
An interesting product selection here. A great gift for Kids and $12.00 is an excellent price for a board game.
1 Day Sale Review