1-day.co.nz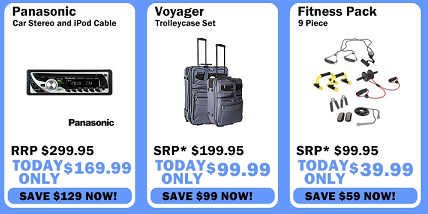 Panasonic Car Stereo and Ipod cable. A good price for a well know brand. I do wonder what kind of warranty is offered on this because one day tend to offer no warranty on sale items.
Voyager Trolley Case Set. Not a great price here. I;ve never heard of voyager but you can pickup similar things at the warehouse for $40.
The fitness pack looks like a good idea, Lots of little gadgets to help with your owrkout. Seem sot be more of a female product.
DealaDay.co.nz
These cables are really a silly product. They are marked up a lot, and are one of the most profitable items in electronics stores for what they are.
1 Day Sale Review