1-Day have finally joined the party with a site for mobile phones. Being the market leader we would have thought 1-day would have been in there sooner. OffTheBack set theirs up last year and Dealaday have had theres for over 6 months now.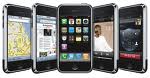 This is a shift towards mobile computing. Being able to view and purchase porducts through your mobile is only going to increase the impulse buying temptation to these sites. Even if you're away from the office a lunchtime you can still have a sneak peek at whats on offer! I think purchases thru mobile (while slow now) will slowly increase over time, and 1-day and the other Daily Deals sites will do a significant amount of business thru mobile purchases.
You can download and check out the 1-day Iphone App
Have you used 1-days site on your mobile device or iphone?