Deals4Kids.co.nz is a brand new one day sale website with a twist. Deals for kids! This is an angle that hasn't been approached yet in New Zealand.
While kids don't have credit cards, their parents do! Everyone knows that mothers usually hold the purse strings in the household so this site is sure to be a hit.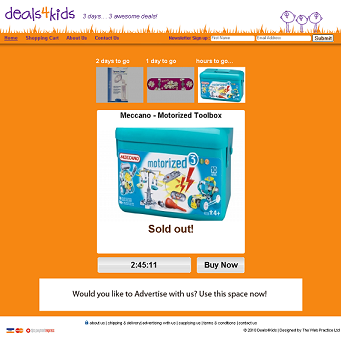 Deals 4 Kids was started by young Mum Ana, so you know that the products offered will be chosen from a mothers perspective, not just whatever products an importing company can find.
What also makes this site interesting is that they give you a preview of the deals coming up in the next few days. They display an image of the future deal, but not the price. This is great use of curiousity marketing, and something I think that other sites will start to implement.
You can check out this great new site at: www.deals4kids.co.nz