It seems partnerships are the way to go when it comes to Daily Deals for products. Latest news is popular site 3Deals.co.nz has joined forces with The Warehouse's RedAlert.co.nz. The announcement dosen't have much to it other than to say they have "joined forces".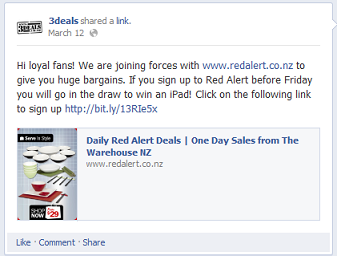 The 3Deals website no longer displays deals and has a link to RedAlert.co.nz. So did the Warehouse buy out 3deals.co.nz? It's hard to say. But more likely, 3deals are now the preferred supplier for RedAlert. 3Deals have always been able to secure some pretty decent brand name gear. RedAlert has as well. So working together does actually seem to be a good fit.

But it seems like 3Deals will now become a major wholesale supplier to RedAlert.co.nz. They will supply them products at wholesale and make their money that way, with no 3deals retail website. While it may seem a little strange to shut down your business to help another, it does mean the 3Deals will selll a lot more product through the Warehouses massive customer database. The Warehouse can also do all their distribution too.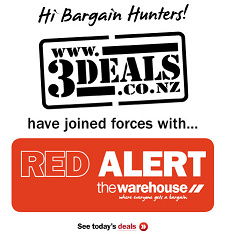 This arrangement is similar to the partnership between GrabOne and First In. First in was able to supply GrabOne Store in a wholesale capacity and FirstIn has grown massively because of it. So it seem like 3Deals is in for a crazy ride of growth ahead.

I can't confirm this, but when 3Deals launched they had some affiliation with Parallel Imported Ltd. So no wonder they are able to get such good brand name gear. Whether PI are still involved in 3Deals is not known. However with The Warehouse really pushing parallel imported products through Red Alert you are going to see crazy deals. You'll have The Warehouse and 3Deals buying teams on the case, a killer combination to take on 1-day.
It's a win-win for consumers.