Deals4Kids.co.nz is a NZ daily deal site that offers deals on baby and child-related products. This site is a first in New Zealand to cater for kids. They offer one deal each day from wide variety of handy products from breastfeeding aids to toys.

Deals 4 Kids is run by a Mum so you know products offered will be useful and in demand. Young mum and entrepreneur Ana personally chooses the products offered so you know they'll have a mothers seal of approval.
Interview with Ana - Founder of Deals4Kids
1. What is the best deal you've ever offered?

As a mom, I try my best to get the products I would buy for my own children and squeeze the best deal out of them. Choosing our products is something personal and I love everything you have seen and will see on deals4kids.co.nz.
I think, that having Sooki Baby on the list is pretty cool. I love their range and I am sure everyone will be as excited as I am on having them on board.
2. What makes your site different from the other daily deal sites?
Our point of difference, is that we are targeted to products for kids. Also, we offer a longer period of sale (3 days) as moms deserve more time for their online bargain shopping.
3. You focus on physical products. Would you ever consider offering coupons?
We would definitely consider it, if it is something fun and appeals to moms, dads and kids, why not.
4. How important do you think social media (Facebook and Twitter) is to your success?
Personally, I want people to get to know who is behind deals4kids.co.nz. For this reason, we have created a blog: www.deals4kids.blogspot.com which moms can find through kiwimummyblogs. Also, our Facebook page offers special competitions and more deals to our followers.
5. Are there any products/deals that you won't offer? Have you said no to types of deals?
I will only sell things I would buy for my own kids and I am lucky to deal with suppliers who most of them are moms who know first hand what children need and like.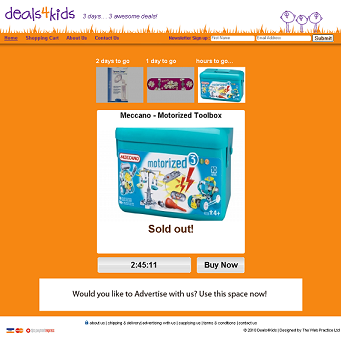 6. What was your first product, price, and what was launch day like?
Our very first product was Tommee Tippee Breast Pump, we had it at $19.99. The day was really exciting for us, it was the culmination of a lot of hard work. We really put a lot of good vibe into this so we know that only good vibe can come back.
7. Have you undertaken any traditional media advertising for the site? What about online advertising?
We are currently advertising through parent magazzines such as: Littlies, Fashion Quarterly, Little Treasures. We are currently advertising through kiwimummyblogs as well.
8. Whats the best part about being involved in the daily deals industry?
Bringing the brands moms and dads know and love to a good price. The constant rotation keeps us excited about every single deal we offer and the relationship be are building with customers and suppliers is invaluable.
9. What are the 3 main reasons new customers should try your site out?
- we love every item we offer
- it has been designed for anyone with kids
- once you try it you will be hooked..
So there you have it! Deals4Kids is fast becoming a popular place for parents and caregivers to find deals on products for their little ones!
Check them out! Go to Deals4Kids.co.nz
You can also check out their blog here: deals4kids.blogspot.com