1dayOut.co.nz has launched today. It's the latest offering from daily deals market leader 1day.

The 1day company now has a whole stable of daily deals sites in their network: 1day (Products), 1dayTee, 1dayCellar, and now 1day Out. 1Day has released a snazzy video that explains what 1dayOut is all about: View Video
One Day Out has some real competition from recently launched experience sites GrabOne.co.nz and Groupy.co.nz and DailyDo.co.nz. These sites have had a head start on 1day and are already offering some amazing deals.
Surprisingly it has taken them a long time to launch 1Day Out. DailyDo.co.nz launched the first NZ experiences site in December 2009. And only in the past month have the 2 other experiences sites launched. However unlike the other "experiences" sites, 1 day Out has launched in 3 markets on the same day: Auckland, Waikato and Christchurch.
No doubt 1day will soon add other major cities at a very fast pace. DailyDo and GrabOne are madly trying to secure new deals in the provincial centres so they can launch in each area ahead of 1day.
Areas with substantial population are: Auckland, Wellington, Christchurch, Dunedin, Invercargill, Hawkes Bay, Tauranga, Bay of Plenty, Whangarei, New Plymouth, Taupo, Palmerston North, Queenstown and the list goes on!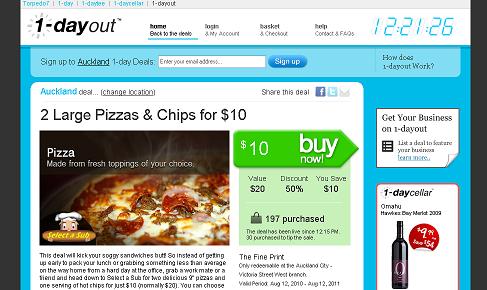 This new "experiences" daily deal segment is going to be an exciting one to watch. There are now 4 major sites all trying to cover the major markets in NZ. Experience would tell us that 1Day could become the top experiences site. But GrabOne especially is a strong performer with a big head start, and a loyal following thru social media sites.
At the end of the day, the more sites sourcing deals from local businesses, the better off consumers are!
You can check out the new site at: www.1-dayout.co.nz