In Grab One's quest for NZ 'daily deal' domination they have just launched Wellington Grab One deals.
In case you've been under a rock for the past 5 weeks you will have heard about new daily deals site GrabOne.co.nz. Grab One offers one crazy voucher deal each day on entertainment and popular services such as movie tickets, beauty treatments, and hotels.

You buy a prepaid voucher online, then take it into the business to redeem for your offer. The great thing about Grab One is their deals are always at least 50% off normal prices. This makes for some amazing offers.
The Grab One Wellington site is now online, and like the launch of other regions an unheard of deal was offered: $3 movie tickets...no thats not a misprint...$3 movie tickets.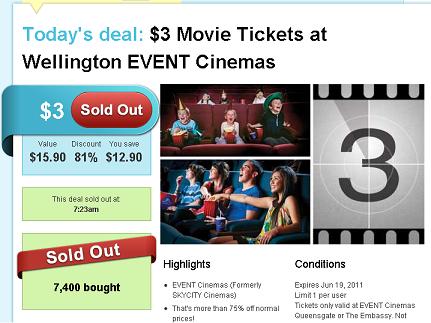 In true Grab One style they sold out their launch day! 7,400 Movie tickets sold for just $3.00 each! Wellingtonians get ready for a new deal each day. Grab One Wellington is here!