Grab One Tauranga has launched today with their trademark 'cheap movie tickets' for Tauranga residents.
Top 'Leisure Voucher' site, GrabOne.co.nz offers one special deal each day at a wide variety of popular businesses. The deals site focusses on local regions so that you can find a deal in your local area, no matter where you are in New Zealand.

All deals are a minimum 50% off retail price. Grab One can offer such great deals because they guarantee a certain number of customers to the partner business. With the vouchers being pre-paid online buyers can simply print off the voucher and redeem it at the business directly.
Tauranga-ites get their own chance for great saving with the the arrival of Grab One Tauranga. Todays launch means that you can buy movie tickets to Bay City Cinemas for just $5 a pop. At a normal price of $15 that means a saving of 66% off normal retail.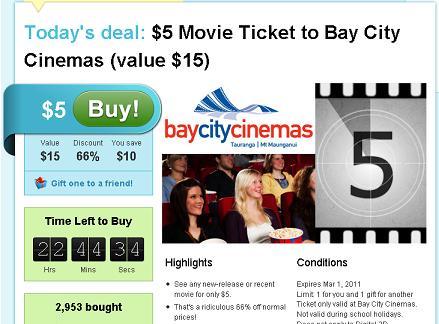 Each day a new special offer is available so if you missed Grab Ones Tauranga Launch special you can still get a great deal everyday on a surprise deal. Deals can be for Tauranga restaurants, movies, haircuts or leisure activities.
So if you're in Tauranga or the Mount, your new favourite website will soon be Grab One! Check it out here: