The launch of Grab One Northland was another success with over 1,200 movie tickets purchased for just $4 each.
Northland residents now get to experience the super deals that the Grab One brand has to offer. In the past 7 days, Grab One Northland has offered savings of at least 50% off.


Event Cinemas (formerly Skycity Cinemas) in Whangarei will be inundated with 1,200 extra customers after a large batch of movie tickets were sold on the launch day. You simply cannot go wrong with a $4 movie ticket! This represents a saving of almost 70% off the normal prices.

But on the Grab One Northland site its not just movie tickets you'll discover. Restaurants, Tours, and even Golf Getaway packages - the variety of 1day deals available means there is something for everyone. The great thing about Grab One is that they offer different deals in each region throughout New Zealand.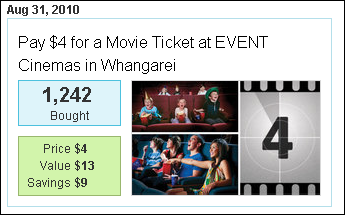 Even if you don't live in Northland or the Far North, you may have family up there, and a Grab One deal is an easy way to give a gift without the need for the hassle of sending a physical item. A Grabone voucher is also way better than a gift voucher as it is redeemable for an experience you choose.
Another great use for deals not in your home town is that if you are travelling thru a region you can check the daily deal in that region, and pickup a discounted meal. What a great way to save money while on holiday, or business anywhere in NZ.
So even in you aren't in Northland you can still take advantage of a Northland deal, and get the same specials as the locals!
You can see todays deal on the Grab One Northland website: www.grabone.co.nz/northland