This is not a misprint. GrabOne just sold $286,000 dollars worht of deals in just 22 hours. Over a quarter of a million dollars...
Grab One have yet again beaten their previous records. The deal that prompted such an epic milestone was a Snowplanet Deal. And what a deal it was: $37 for a Day Pass, Rentals and a drink at one of New Zealands most popular attractions. Valued at $95 this gives a massive 61% saving.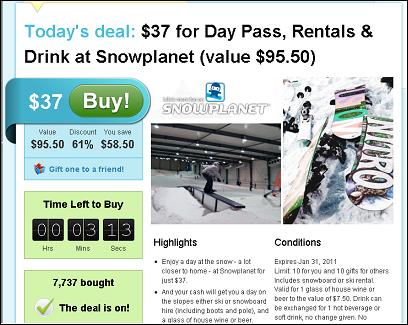 This deal just shows the massive power that group buying has. 7,737 vouchers were purchased. What a day for Grab One. Today also marked the company overtaking market leader 1day.co.nz in terms of social media popularity. Grabone.co.nz is certainly one to watch, and with their imminent launch in Australia, they are set to give the Aussie daily deal sites a run for their money.
See whats on offer today at: www.GrabOne.co.nz