Entertainment website 1-Night.co.nz is now offering daily drink deals!
If you love a good night out then take a look at this site! 1Night.co.nz is an innovative new way to enjoy gigs and drink specials in your city. On your first purchase, the guys at 1-night will send you out your very own own 1-night card. Your card has your name on it and acts almost like a prepaid/debit card.

You can buy events tickets online and they will instantly be loaded on to your 1-Night card. Then instead of bringing your paper tickets along just scan your 1-Night card and you're in the door.
Not only can you purchase event tickets, you can even pre-purchase drinks for your night out! Yes you don't even need to take cash or a bank card. Just load up your 1-night card and thats all you need for a great night out. (But don't forget your id!)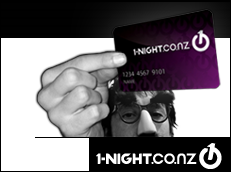 Learn more about how it all works here: http://1-night.co.nz/how-it-works
The 1Night site has been running for a few months now, but the big news is they have just launched daily drink specials! Yes thats right, each day you can get a super deal on drinks at bars in your city. Wellington is first to be blessed with the daily drink deals, with Auckland to launch in a matter of weeks.
Be one of the first to take advantage of this great new way to have a great night out: www.1-night.co.nz