Grab One continue their rapid growth with a new daily deal venture - Wine!
GrabOne Bottle is the name of a new website that offers a new special each day on Wine. This signals GrabOne expansion from just vouchers to a physical product.
Direct Wines looks to be handling the logistics of shipping the goods and outsourcing this make complete sense. Why set up inventory and a warehouse when you don' t have to. All in all, a great effort from the Grab One team.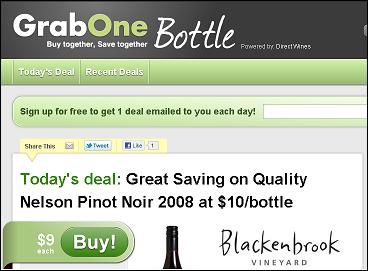 Grab One Bottle competes directly with 1day's wine site 1daycellar. This move has demonstrated that GrabOne has no qualms about competing with the market leader in physical product deals - 1day.
1day has held the perch of 'top daily deals site' since 2007. GrabOne has thoroughly beaten 1day with vouchers this year. The question to be asked now, what will GrabOne do next?
You can check out NZ's newest daily deals site at www.grabonebottle.co.nz