Innovative Daily Deals Site Grab One's expansion continues with yet another site!
It was only last week when we wrote about daily deals site GrabOne launching a new site called GrabOneBottle.co.nz. In another exciting development Grab One has just launched another new site: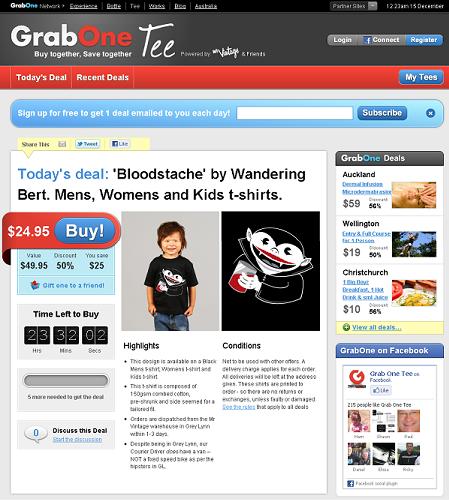 And what a great time of the year to launch! Christmas is upon us and everyone is hunting for Gifts! Grab One Tee is a partnership between t-shirt baron Mr Vintage and Grab One. Mr Vintage have a long history of great designs and the dedicated one day deals site is a logical growth area for them. Mr Vintage have been operating a daily t-shirt special on their own website for almost 2 years now.
It also looks like other designers will be helping out too. Today's design is by a Hamilton designer, not Mr Vintage. GrabOne are certainly giving 1day.co.nz a run for their money. GrabOne now have matching daily deals sites in vouchers, wine and t-shirts. How long until Grab One do a full products site?
There's a big scalability issue in dealing with physical products over vouchers but GrabOne is doing the smart thing and partnering with successful companies to do the despatching and warehousing. All GrabOne needs now to beat out 1day for the top position is a physical goods partner who has the contacts to pull off brand-name products deals. 3Deals partnership, perhaps?
But going back to GrabOneTee. If you are looking for a funky new tee then check out: GrabOneTee.co.nz