Are there any $1 deals on today? Better have a check:
---
Yes thats right. In an amazing daily deal offer, Groupy today offered Hell Pizzas for just a buck.
Unfortunately the deal has just SOLD OUT. And what a deal! Over 15,000 pizzas were sold. And its no wonder as Hell's Gourmet Pizzas normally go for up to $17.50 each.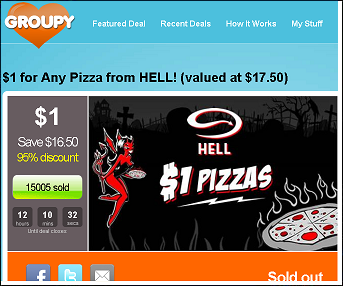 This is easily one of the best deals we've seen. This crazy offer has set the bar for other daily deals sites to beat.
While these $1 deals will only happen in a blue moon, its another reason to use our Most Popular Daily Deals Sites page every day to ensure you don't miss out. You can see live shots of the top 10 daily deals sites all on one page. No more checking sites by hand!