The NZ daily deals voucher industry is less than a year old but we've already had the first website cash out to a larger company.
Wellington based Groupy.co.nz, a site just over 6 months old, has this week been bought out by the Yellow Pages Group. While not the top site in New Zealand, Groupy did have a clean interface, professional feel and popular following. Groupy currently only services Wellington and Auckland but all regions are planned in the near future. The company was also backed by an early adviser to TradeMe.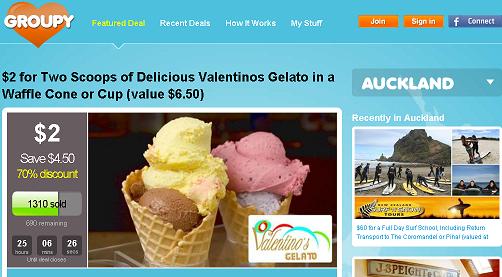 The Yellow pages are clearly jumping on the daily deals band wagon. However I do think that Yellow could have easily built their own site. They have a network of business in excess of 300,000 so these businesses could easily have been upsold to create deals to those businesses re-book their yellow pages ads.
Yellow's purchase of Groupy is one more validation that the daily coupon business model is a sound one. In Australia this week, Yahoo7 bought out Spreets.com.au for 40m AUD. This deal especially, is promising to the entire Australasian industry.
In the US, Groupon recently rejected a 6 billion dollar bid to buy from Google. Yes, rejected 6 billion. They are holding out for an IPO with a speculated value of 9 billion. Daily Deal sites are the hot thing right now but business model is a far-cry from the dot com boom days. while enthusiam for the sites may wain in a few years, these companies make real profits, and provide real value. For now they seem set to stay.
It will be interesting to see where Yellow takes Groupy. With Yellow's finances in bad shape, Groupy could be just the thing they need to turn things around. Yellow have the large network of small businesses for daily deals, a number of busy websites to further promote Groupy, and now the infrastructure to sell the deals. They just need to execute well.
Groupy's main competitor GrabOne is a long way ahead. There is sure to be a scrap with around 10 voucher sites all trying to source deals. On the flipside this means the great deals for consumers are here to stay. This proliferation of sites gives rise to the "Daily Deal lifestylers". Those who plan their entire social life around the deals they buy from these sites!